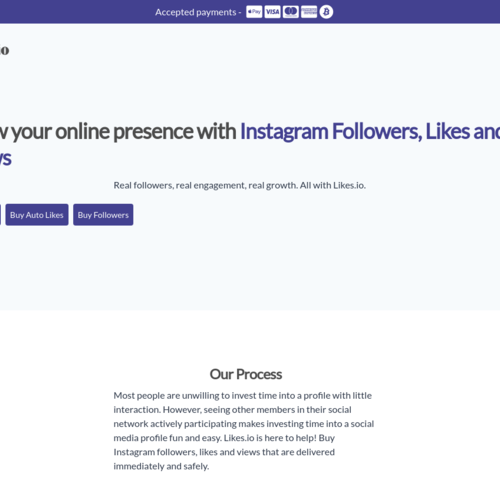 Likes.io Review 2023 - Is It Safe or Scam?
Likes.io is an online promotion service. This service allows you to increase your presence on the Internet. They claim that they can be used to quickly and safely increase engagement and success, as well as improve your marketing strategy.

Is what they claim true? What are the pros and cons of the service? Are the prices adequate? Do they fulfill their obligations to customers?

We will answer all these questions in this review. We will also conclude whether it is worth using Likes.io services or whether it would be better to look for similar services.

Why Presence Is Necessary

The number of people on the Internet is huge. For various companies and individuals, it is necessary to create their image as early as possible. To do this, they create accounts / groups on social networks in order to become more famous.

There are many factors to consider when promoting your brand. One of these factors is presence. It helps potential buyers or subscribers find you.

However, in order to increase your presence on the Internet, you need to spend a lot of time and effort. To facilitate the task, various promotion services are used.

What is Likes.io and what it offers

Likes.io is a service for promoting accounts/groups. The service mainly works with Instagram, but you can also make a purchase for a YouTube account. Through this service, you can buy likes, views, subscribers and auto likes.

When buying, you can choose the type of likes and followers. There are only two types:

• High Quality;
• Premium.

The difference between them is not written on the site, but the Premium type costs 1.5-2 times more than High Quality.
With Likes.io, you can increase your online presence and improve your marketing strategy.
How Likes.io works
To get started with Likes.io, you need:
• Go to likes.io site;
• Fill in the data in the "My account" section;
• Top up your account;
• Choose the package of services you are interested in;
• Select the type of product and its quantity;
• Press the "Buy now" button;
• Fill in the form;
• Pay.
When filling out the data, you will need to provide your email and username on Instagram or YouTube.
You can only fund your account with PayPal, Coinbase, or with a debit/credit card. To replenish, you need to select a specific amount from $10.00 to $1000.00.

There are dozens of service packages on the site. They differ only in the quantity of goods and cost.

In the "My account" section, you can view the history of orders, news, and offers. Also in this section you can ask a question to the support service.

It is possible to change the password, email and username on the site.

Likes.io prices

The prices on the site are about twice the market prices. The minimum price on the site is $2.21, the maximum is $1499.99. The price for the same service may vary depending on the type of service (High Quality or Premium).

There is a limit to how much you can buy anything at one time. For example, for Instagram, you can buy a maximum of 100,000 premium views at a time

Instagram Follower Prices
• 1,000 subscribers - from $12.99 to $19.99;
• 5,000 subscribers - from $39.99 to $84.99;
• 10,000 subscribers - from $119.95 to $124.99.

Prices for likes on Instagram
• 1,000 likes - from $12.99 to $24.99;
• 5,000 likes - from $44.99 to $74.99;
• 10,000 likes - from $88.99 to $124.99.

Instagram View Prices
• 1,000 views - from $2.99 ​​to $5.95;
• 5,000 views - from $9.98 to $14.95;
• 10,000 views - from $19.96 to $26.95.

YouTube Subscriber Prices
• 500 subscribers - $29.99;
• 1,000 subscribers - $59.99.

Prices for likes on YouTube
• 500 likes - $17.99;
• 1,000 likes - $34.99;

YouTube View Prices
• 1,000 views - $5.99;
• 5,000 views - $29.99;
• 10,000 views - $59.99.

We did not list all the prices, as it would take a long time. However, these prices are enough to understand what numbers you can expect on the site.
Best alternatives
---
| | | | |
| --- | --- | --- | --- |
| ALTERNATIVES | SERVICE | RATING | LINK |
| Viewsta | Instagram | 4.7 | VISIT |
| Views.biz | YouTube | 4.9 | VISIT |
| Tube.biz | Instagram | 4.8 | VISIT |
| SMO.Plus | YouTube | 4.7 | VISIT |
---

Pros and cons of the site service Likes.io
Do we recommend Likes.io?
We would not recommend Likes.io for several reasons.
That's why:
Bad rating on reviewsxp.com and scamadviser.com
Customers complain that delivery speed is slow and there is no drop protection. There are also a lot of complaints about high prices that do not match the quality of services.

Feedback from one of the clients: "Bought followers yesterday and lost them today. All fake profiles. Avoid calling it call cost, scam."

The service uses fake accounts to cheat
The site does not say where the activity comes from. It is also unknown if Likes.io uses real accounts. Most likely this service uses bots from all over the world. Instagram and YouTube moderation quickly finds and deletes the activity of such accounts.

FAQ about Likes.io
1. How can I contact Likes.io support?
There is a "Contact Us" section at the bottom of the site. In this section, you can fill out a form where you will need to specify your email, subject, username and the message itself. There is also a chat on the site that works at a certain time. In this chat, you can ask questions of interest. The last way to contact support is to email them at [email protected].

2. Is there a Limit to the Followers I can Buy?
The site does not have any restrictions on how many times you can purchase their services. However, the total number of subscribers must not exceed 100 thousand within 30 days.

3. Do I need to register on the site?
It is necessary. Without this, it will not be possible to replenish the account on the site in order to place an order later.

Conclusion
We would not recommend this service. This is due to the fact that they have inflated prices and poor quality of services. There is a high probability that the purchased subscribers or comments will be lost, and it will not be possible to make a refund. Support is difficult to contact. They very rarely respond to complaints.
Because of these reasons, we would recommend looking for similar services.
Pros:
This website is receiving a lot of traffic according to Tranco ()
This website offers payment methods which allow you to get your money back
The reviews for this website are mixed
According to Xolphin SSL Check the SSL certificate is valid.
The owner of the site has claimed the domain name for a long time
This website has existed for quite some years
DNSFilter considers this website safe
Flashstart did not find any malware of phishing activities
Cons:
The website's owner is hiding his identity on WHOIS using a paid service
It seems this company is offering likes & followers of social media
People stated that this site sells fake products (how to check)
People voted this site as possible fraud on Scamadviser