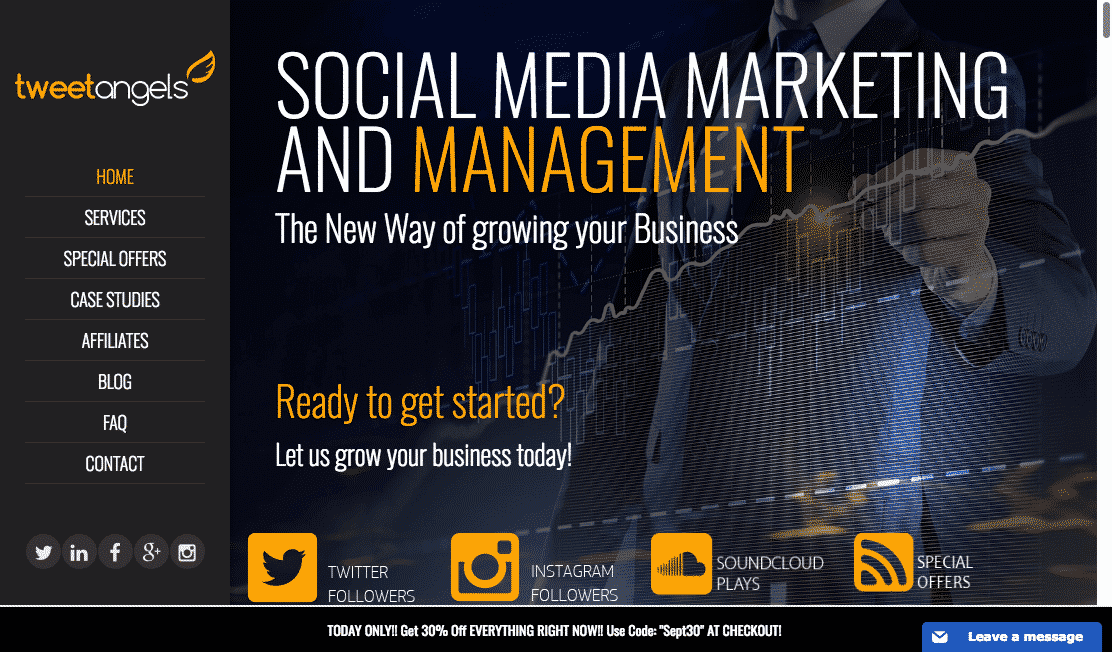 Importance of social media promotion.
Nowadays social media has become more and more influential. Our children are obsessed
with Social media and doing their best to become famous and popular. The business people
are also using social media as their business platforms. Social media marketing is actually
as easy as it sounds, it doesn't involve an enormous budget and also has no territorial
barriers. So, a lot of new people are wondering about social promotion online, like buying
instagram likes, facebook views and so on. The only issue is that sites are quite
overcrowded with an extremely high level of competition. Some of the new companies get
lost online and their business and content stays unnoticed. To solve the problem, influencers
and content makers must use the professional online marketing sites to buy youtube
comments, twitter followers, and a lot of other things to become famous. Such specialized
companies help their clients to take a step further in online media at a fine price.
Why You definitely must use the media Promotion services?
Social media aren't just sites for messaging and sharing pictures, videos etc.; it's a great platform
for online promotion of your content and business. Promotion services offer their clients plenty of
different options to spread your popularity: twitter, facebook, vk, instagramm tiktok likes, youtube
watching time and many-many other. Interested social media users can promote themselves at
affordable rates from websites at wallet-friendly prices. Reach the tops with social media likes
and views!
What is the TweetAngels?
TweetAngels is a social media-specialized site that offers social media management
packages: from making you targeted followers, real ones, as they say, social media
advertisement setup and custom content like sales images, events and so on. The amount
of their services is not a joke.

First of all, if you are interested in their services, you can find a big list of services at their store:
Growing an audience of REAL targeted followers that would be interested in your
content.
Social Media AD setup and management.
Increasing your media visibility and boosting posts.
Newsletter design.
Monthly analytics.
All their services are 100% guaranteed, but there is an issue with it, we'll discuss it below.

However, the design of the TweetAngels is poor, not to say cheap, it takes a lot of time to fully
load, at least it has HTTP. Pages work fine, the stock images' resolution is quite low, but until the
site is fully loaded, which can take a long time, a lot of text is just unseen on the screen. Some
browsers do not even fully support it, you have plenty of empty space if you run the site using
Firefox or Opera. Tweet angels also have no interesting features, like microtasks exchange or
multi-orders, giving the user not the best impression.

For a poor user interface and its ugliness we can give only a score of 2 out of 5 for the criterias
above.
Score: 2/5
But should you use this site despite its poor appearance?
Let's find out more about TweetAngels in the upcoming paragraphs.

Let's see how this site actually works, and here we can see the second suspicious thing about
the TweetAngels. There is no email confirmation, registration and any ways to get an account
here. To buy the Twitter views and ad setup all you have to do is go to the services menu, write
down your account's name and proceed to check-out. So, it really doesn't achives the user's
trust, moreover, if you need a refund, you'll have to contact them directly by filling a form or
directly calling on their U.S. phone number of visiting their office.

Such truly suspicious service offering can get only 2 scores out of five, and only because
they even have several ways to contact them.
Score: 2/5
As we mentioned earlier, TweetAngels provides a promotion for a plenty of social media sites:
YouTube
Spotify
TikTok
Instagram
Facebook
Twitter
Apple Music

And packages for multiple sites at once. The prices for promotion seems really affordable: from
$19.99 for the lowest tier up to $499.99 for the most complex of packages. For example, 20 000
TikTok views would only cost $19.99, and a platinum-tier promotion package which gives you
over 300 000 YouTube views, 15 000 Twitter followers and 30 000 Instagram followers, finishing
with 5 000 Facebook likes would cost $499.99.

Best alternatives
---
| | | | |
| --- | --- | --- | --- |
| ALTERNATIVES | SERVICE | RATING | LINK |
| Viewsta | Instagram | 4.7 | VISIT |
| Views.biz | YouTube | 4.9 | VISIT |
| Tube.biz | Instagram | 4.8 | VISIT |
| SMO.Plus | YouTube | 4.7 | VISIT |
---
Should you trust TweetAngels?
After all that, we should come to a point and decide the trustworthiness of the service.
The site has a review article, with real users tweets, however, they do not seem natural
and may be nothing more than a bite.
You can buy the services only using American Express, Visa, Mastercard and Discover,
there are no crypto-wallet options or even Google or Apple Pay, which may be a little
suspicious.
There is no special FAQ page, however, there are plenty of answers right at the buying
page, even though they have an available contact email, phone number and even
address, there is not even a single word about the site's makers and responsible people.
No any referral program, which is disappointing.
You can not register in TweetAngels, so there is no any real guarantee that you may be
able to refund, however, the site still gives you a 100% refund guarantee.
So, speaking of trustworthiness of TweetAngels, we can't rank it higher, than 2 out of 5, once
again.
Score: 2/5
Continuing, we should weigh the pros and cons of this social media promotion site.
Pros:
A lot of available options for promoting your content
The traffic is not bots, only the real users.
Affordable prices
Cons:
No registration at all
Terrible UI
Doubtful feedback methods
No FAQ article
Questions about TweetAngels
1. Is TweetAngels safe to use?
There is no real guarantee that the site is 100% safe and secure. However, the
only thing you share is your account ID, if you are buying just a promotion on a
single social media site. In the case you are going to buy a multi-service package,
you'll have to give your contacts and access to your account, so you should be
cautious.
2. Are there any free services for new customers or any special kinds of offers, like a referral program?
Sadly, but at the moment, TweetAngels neither provide any free-promotion, nor
have any discounts for new or old customers, but they may change it in the future.
3. Is TweetAngels true or fake?
The site offers you different kinds of promotion, like followers, subscribers or
views, and even engagement with their customers in case they are buying ad
setup and monthly analytics. This, in the aggregate with suspicious things we've
mentioned earlier, puts TweetAngels into an undefined state between real and
fake sites.
Do we recommend TweetAngels?
Concluding everything we have written above, we cannot surely recommend you this
site, and not only because it has several problems, like lack of information about
feedback, and untrustworthy design. TweetAngles has bad reviews on Trustpilot, only 2.7
out of 5, only slightly better than we gave.
When you buy online promotion services, its necessary to check reviews on a several
sites beforehand.
Sadly, TweetAngels has a really bad rating, most of them are 1-star, which says a lot
about the service reliability.
So it would be irresponsible for us to recommend TweetAngels, there is a high chance
that you will be deceived and lose your money.
Secondly, the site lacks information about contacting the service, all they have is just an
address, one email, and one phone number, which may not be enough in case you have
questions or claims to them.

TweetAngels gets only 2 out of 5 in our final evaluation scale, zot zero only because it has
a lot of detailed information for an absolutely-fake social media promotion site
Overall score: 2/5
Pros:
Fast delivery
Easy start
User-friendly system
Cons:
Restively high prices
Overloaded website