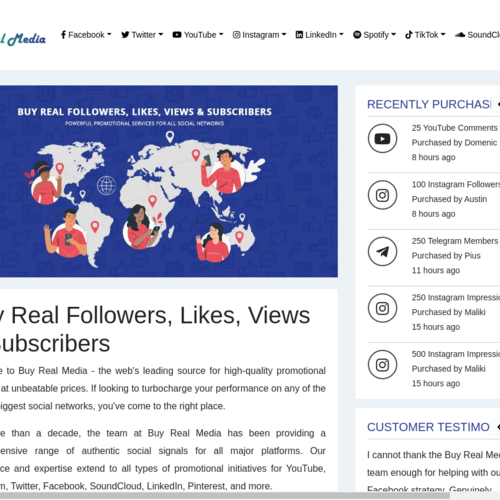 BuyRealMedia Review 2023:
You might have seen a page of BuyRealMedia already. It is a source that provides online users with real subscribers, views, followers and even likes. Is it all true? Do users really get quality services or is it all a scam? It will get clear after our thorough analysis whether their services are legit.

Why do you want to get likes, subscribers and views?
A lot of users are constantly looking for a resource where they can buy promotion services. The reason to do that is still unclear. The vast majority of users are skeptical towards buying promotion services and not gaining likes, subscribers and views themselves.
However, it is a fact that the number of sources that offer getting promotion services is high because of the demand from users' side. It is reasonable as by getting likes, subscribers and views users:
- Save time on marketing;
- Have more time on optimizing the content;
- Helps to boost popularity and visibility online very fast;
- Help from marketing professionals;
- Quality promotion in several minutes.
All the metrics that are used on social media are important in understanding target audience, engagement rate, what should be improved and what gets more activity. Many people who are on social media use it to build brand awareness and so gain more exposure. That is why for them it becomes essential to get as much activity on their accounts (likes, comments, subscribers and views) as they can.
What does BuyRealMedia offer?
Let's look at what this panel offers to its customers in detail. They state that they provide promotional services for all social media platforms.

At the very top users get to see on which social network they can get promotion from BuyRealMedia. You will see only 8 of the platforms and next to it there's a special button to see more.
Indeed, there are services available for more than 30 social media platforms. Real likes, views, subscribers and followers. They offer targeted services, privacy and safety, refund guarantee, real people services and customer support.
However, the design of the page is not user-friendly. It is not that trustworthy as they don't provide statistics or any kind of link under their features (for instance, customer support). Also, it is confusing to navigate through the page as the design is poor. It is misleading when you try to choose the services in 'other'. The borders between services and platforms' names are not obvious so you spend time to figure that out on your own.
How to get services from BuyRealMedia?
What you have to do is to choose the necessary service at the top or scroll down and pick it there. Click on the service and a new window will pop up where you select the details.
Target country

The quantity

Enter your URL
Once you are done click on 'Add to cart' or 'Buy' to get the service.
On the page it is not clear what information you need to introduce, however, there are a lot of details of why you need to buy the services and frequently asked questions which are unnecessary in this case.
The biggest disadvantage is that if you don't pick the target country you're unable to proceed and get the service. It is important if you want to target more than 1 country. Which is a common case.
BuyRealMedia Prices
In this section we'll focus on their top services that are shown as 'frequently bought'.
Let's start from Twitter services: likes and followers.

As you can see there are only 5 customer reviews which is not that much. Again, the biggest disadvantages:

-You can only choose the GEO that is offered to you, and it is not a lot. You can only choose between 4 GEOs or select 'worldwide'. If you want to target, for example, Canada, it is impossible to do. Only if you choose 'worldwide', this is not that convenient.
- You can only choose getting 50 likes as a limit. It will cost you $3. You can change the number or get more. If you need more you'd have to make an order again.
The same thing is with Twitter followers. You're not free to customize your future order and the delivery time is very long (around 3-4 days). For example, buy Twitter likes for $17 for 250 followers that you'll get in 3-4 days.
Let's move to other popular services: YouTube views, subscribers and comments.
There are a lot of details to choose that can mislead a customer, there are no details about each option that feel puzzled.
Buy YouTube views for $16 to get 1000 in 2-3 days;

Buy YouTube subscribers (only choosing targeted countries) - 500 subscribers (max) in 4-6 days by $77;

Buy YouTube comments for $37 to get 100 (max). No delivery time is put.
What about popular Twitch services?
- Buy Twitch Followers - 1000 followers (max) in 2-4 days by $34.
- Buy Live Twitch Viewers - 100 000 views (max) in 5-10 days by $655.
Best alternatives
---
| | | | |
| --- | --- | --- | --- |
| ALTERNATIVES | SERVICE | RATING | LINK |
| Viewsta | Twitch | 4.7 | VISIT |
| Views.biz | YouTube | 4.9 | VISIT |
| Tube.biz | Twitter | 4.8 | VISIT |
| SMO.Plus | YouTube | 4.7 | VISIT |
---
Would We Recommend Using BuyRealMedia?
After conducting our own research, trying to make an order and actually getting in touch with their customer support we must say that we would not advise users to order from BuyRealMedia.
1. Poor Trustpilot Reviews
Trustpilot is the first source to check. From the data on this website it can be stated BuyRealMedia received poor reviews: 3.5/5. A lot of users say that this SMM panel doesn't provide the services as they put it on their page and that it all seems like a scam. Also, they say that they receive fake followers, when on the page it is said that they provide only real subscribers, followers, likes and views.
2. Poor design and no detailed information
Once entering the web page it is noticeable that the font is big and the design overall is not user-friendly. The size of the text and the font itself make the text hard to read. Sometimes it is hard to navigate through the page as well as to understand where to click to get the relevant information. When you choose a service there will be a lot of details to pick from without any clear explanation what each option means.
FAQ
What is the delivery time of the services on BuyRealMedia?
On BuyRealMedia the delivery time varies for different services. Users are promised to receive services within 2 days as a minimum and within 10 days as a maximum. It is clear that this period of time is long. There are a great number of panels that offer promotion serviced within several hours or maximum a day. Also, it is a pretty abstract period of time so you can't really plan when and how you will get a picked service.
Does BuyRealMedia provide real people activity?
According to Trustpilot reviews and what customers have said on other forums the services that are provided by this SMM panel do not use real users activity. We doubt that with BuyRealMedia you'll get organic promotion that will make your social media accounts grow without drops in services. Instead, choose promotion services from more trusted panels and get real activity.
Does BuyRealMedia provide customers with free trials?
Unfortunately, on their page there is no such opportunity. You only have to pay to get a service and you should be registered as well. Moreover, the prices are pretty high for getting a small number of likes, views and so on. It can be said that the pricing is unreasonable and there are no free trials to see how promotion will go before actually getting it.
Conclusion
After conducting our own research we would not recommend purchasing promotion services from BuyRealMedia. They have more negative reviews than positive ones, they do not provide real people activity, the process of making an order is confusing and the design of the page makes it more puzzling.
As an alternative try getting services from these pages that have legit services and that are used by thousands of users already:
It's up to you which source to choose, but remember, that promotion starts from choosing quality services. We hoped this article helped to clear things out.
Price / Quality ⭐⭐⭐⭐⭐ 3,5/5
Start time ⭐⭐⭐⭐⭐ 3/5
Delivery time ⭐⭐⭐⭐⭐3/5
Support ⭐⭐⭐⭐⭐ 3,5/5
Pros:
All details are presented on the page
You can choose from more than 4-5 options almost in each line when making an order
Cons:
A lot of options to choose from when making an order with no clear explanation what it means
Not user-friendly interface
Delivery time that is more than 48h (2-10 days)
Expensive services
Customer service team that provides with basic information, not diving into your case
Poor reviews on Trustpilot (3.5/5)
Poor web page design