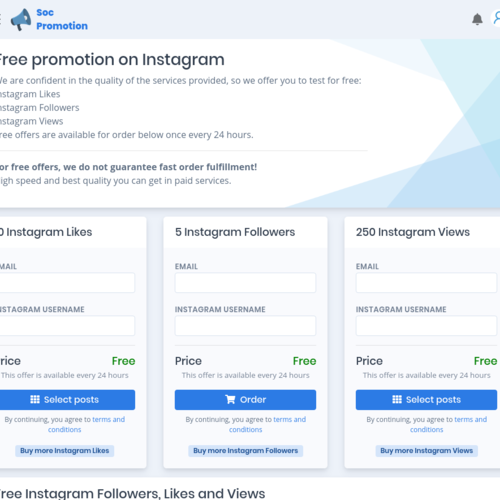 SocPromotion
There are many online services where you can buy views, likes, subscribers for YouTube, and other social media accounts.
In this article, we`ll take a closer look at Soc-Promotion marketing services starting from registration to final results. We`ll discover what kind of services and what quality Soc-Promotion offers to the clients.
Registration
You do not have to register to place an order. To purchase any service you need to enter a valid email address and link to your video, post, account.
For registration, you also enter an email and create a password.
That is how the webpage looks like after registration.
What can you buy?
The service offers views, likes, followers for different social media platforms.
For Instagram, you can purchase likes, auto-likes, followers, views, IGTV likes, and views. The start price for 1 000 views is $1,10 and you can choose several posts to divide the views among them.
For TikTok - likes, followers, and views. 2 000 TikTok views price is $1,20.
For Facebook post likes and followers are available. Prices for post likes on Facebook are from $1,90 to 179,90.
You can buy views, likes, and dislikes for YouTube videos. 100 YT likes will cost you $2,10.
For Telegram, they offer channel members and 5 post views. 200 Telegram 5 post views are available for $1,10.
YouTube Views
The minimal order starts from 5 000 views for $24,90. All views are from real people, so the service guarantees the number will not drop. Also, you can request specific GEO of the views, which I didn`t do.
Placing an order
I selected the type of services I want to get. After that, I needed to choose the quantity of YouTube views and insert the link to my video. After pressing the "order" button I was redirected to the payment page.
Soc-Promotion accepts bank cards and cryptocurrency. There is a loyalty-program available starting from $25 both for refilling your balance with a bank card and cryptocurrency.
Video metrics Before and After
Soc-Promotion added 1000 views to my recently uploaded video in one day. It took around 3-4 hours to complete my order. Other views appeared after this.
Most of the views were from male users aged 18-34. The views were delivered from Indonesia - 21.3%; Pakistan - 14,5%; Vietnam - 4,6%; Ukraine - 3,3%; India - 3,0%. I didn`t specifically ask for GEO to be from the US or other countries. Such a variety of countries will not be suitable for every video.
Conclusion
Two days after views delivery my channel was still safe and the number under my video was more than 1000 views. Soc Promotion is a good service to purchase digital marketing services for YouTube, as well as other media platforms.
They offer reasonable prices and a wide range of services. I would recommend using Soc Promotion for your successful promotion.
Soc Promotion review verdict 4,5/5
Price / Quality ⭐⭐⭐⭐⭐ 4/5
Start time ⭐⭐⭐⭐⭐ 4/5
Delivery time ⭐⭐⭐⭐⭐5/5
Support ⭐⭐⭐⭐⭐ 5/5
Pros:
Free trial
Easy start
24\7 support
Cons:
No independent review
Overloaded website
Poor design form UX point of view