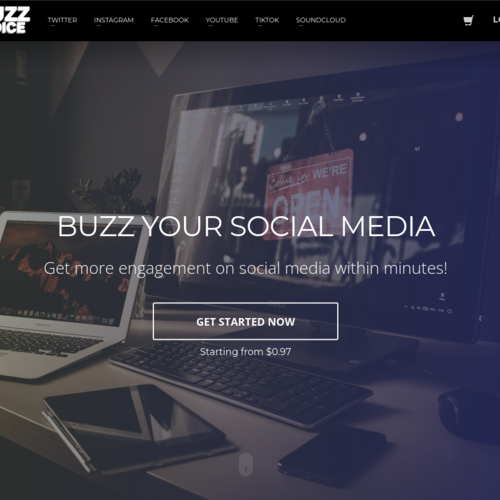 Buzzvoice Review 2023: Is It Safe or a Scam?
Although there are several methods of online promotion, social media continues to be a formidable force regarding online recognition. However, there can be instances where some assistance is needed, and this is where platforms like Buzzvoice come into play.
Many people will be keen to buy subscribers for their social media accounts but are unsure where to start. Buzzvoice can be the perfect starting point when purchasing subscribers and followers, although there are some factors to consider.
Buying Instagram comments and Twitter followers is not the secret to online success, but if used correctly, Buzzvoice can provide an affordable solution for those trying to master social media in 2022.
What is Buzzvoice and What Does It Offer?
Buzzvoice is a platform aiming to obtain more social media user engagement. Interaction is integral to social media, but some people can be deterred from interacting with accounts with few followers or little interaction.
Buzzvoice offers a tailored social media posting service that helps social media profiles show in relevant search results and obtain more online traffic as a result.
How Does Buzzvoice Work?
Buzzvoice provides users with genuine followers and interactions for several social media platforms. The services available can depend on the social media platform, but Buzzvoice provides users with the ability to buy Youtube viewers along with the following services.
Facebook
Page Fans
Post Likes and Shares
Comments
Gain Followers
Video Views
Automatic Likes Engagement
Page Reviews
Twitter
Followers
Retweets and Likes
Automatic Engagement
Instagram
Followers
Likers
Views
Comments
Automatic Engagement
YouTube
Views
Likes, Dislikes, and Shares
Comments
Subscribers
TikTok
Obtain Followers
Earn Likes
Comments
Video Views
Shares
Soundcloud
Followers
Plays
Likes
Downloads
Reposts
Buzzvoice Prices
The price of using the Buzzvoice platform can depend on the service used. Examples of fees for the most popular platforms, Twitter, TikTok, YouTube, and Instagram, are as follows.
Twitter Price Examples
Twitter Followers
100 Followers $5.97
250 Followers $11.97
2,500 Followers $97.97
Retweets and Likes
100 Likes $4.97
250 Likes $10.97
1,000 Likes $37.97
TikTok Price Examples
TikTok Followers
100 Followers $3.97
250 Followers $7.97
5,000 Followers $99.97
Video Views
1,000 Views $2.00
2,500 Views $3.00
250,000 Views $100.00
YouTube Price Examples
Video Views
500 Views $4.97
1,000 Views $8.97
5,000 Views $39.97
Subscriber Increase
100 Subscribers $15.00
500 Subscribers $67.00
2,500 Subscribers $299.00
Instagram Price Examples
Earn New Followers
50 Followers $2.97
250 Followers $7.97
2,500 Followers $49.87
Random Comments
10 Random Comments $2.97
50 Random Comments $9.97
500 Random Comments $59.97
The price paid can depend on the volume and social media platform used, but the wide range of options means that it should be easy for most users to find a package that suits their requirements and budget.
Best alternatives
---
| | | | |
| --- | --- | --- | --- |
| ALTERNATIVES | SERVICE | RATING | LINK |
| Viewsta | Instagram | 4.7 | VISIT |
| Views.biz | YouTube | 4.9 | VISIT |
| Tube.biz | Instagram | 4.8 | VISIT |
| SMO.Plus | YouTube | 4.7 | VISIT |
---
Pros and Cons of Buzzvoice
Whether you want to buy real followers for Instagram or increase Twitter retweets, Buzzvoice can provide a solution. However, there are some pros and cons to consider before designing whether Buzzvoice is for you.
Pros:
Security is something on the minds of all social media users, and those buying followers, likes, and comments are no exception. Fortunately, those using Buzzvoice can be confident of a streamlined and secured ordering process that ensures user details are never compromised.
Nothing is more frustrating than having to navigate a website endlessly to find details of prices. Buzzvoice does a fantastic job of displaying its services in relevant sections, meaning that making an order can be done with a few clicks, and customers can be confident they are never paying more than the price shown.
Doesn't Require Social Media Password
As with security, social media users are mindful of handing out secure details. Buzzsumo can carry out its many services without logging in to multiple social media accounts. This gives customers additional peace of mind that their details will not be compromised when making an order.
Cons:
Although there are several benefits when using Buzzvoice, there can also be several drawbacks that users must consider.
Some people like to get a feel of a platform before committing. Unfortunately, there is no free trial available when signing up for Buzzvoice.
When using the Buzzvoice platform to buy Twitter followers or earn YouTube views, it is essential to note that the engagement and retention of followers are not always guaranteed.
Social media management works best when posts are scheduled. However, when using the Buzzvoice service, there could be instances when several posts are made at the same time. Although not overly detrimental, it isn't ideal for those wanting to drip-feed social media account posts over time.
Is Buzzvoice Recommended?
Buzzvoice can be a valuable tool for giving the impression of an engaging social media account. Still, social media users must carry out other work to ensure engagement and retention. Those who only purchase followers and views will find there is no realistic overview regarding performance metrics.
FAQ BuzzVoice

Is a registered account needed to make a purchase?
Although customers are not required to register an account, their details will be saved so past orders can be viewed easily.
How long does it take to see results using Buzzvoice?
In many instances, those making an order using Buzzsumo will see instant results. However, there will be occasions when it takes as long as 24 hours to see results, depending on the social media platform used.
What payment methods are accepted at Buzzvoice?
Customers can place orders for Twitter followers, Instagram likes, and YouTube views using credit and debit cards, Bitcoin and Paypal.
Conclusion
Using Buzzsumo will not convert a new or dormant social media account into an overnight sensation. However, those wanting to give the impression of an engaging website when building their audience will find that Buzzsumo is a platform worth considering.
However, using the platform for all social media platforms full-time will lead to unreliable analytics, so a lot of hard work and additional promotion must be carried out to achieve online success.
Pros:
This website is deemed to be popular by Tranco with a ranking of
The SSL certificate is valid (source: Xolphin SSL Check)
This website is (very) old
This website is safe according to DNSFilter.
This website does not contain phishing or malware according to Flashstart.
This website is trusted by Trend Micro
Cons:
The owner of the website is using a service to hide their identity on WHOIS
This website has received mainly negative reviews