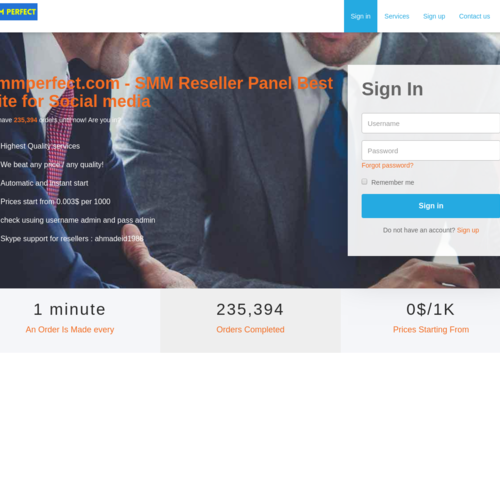 SMMPerfect - Is it Legit, Safe or a Scam? - 2023
SMMPerfect.com is a seller of social media marketing services online with three years of experience. It offers a range of services for different social media networks.
In this article, we will explore smmperfect.com website and find out more about its services.
Registration
For new clients, registration is necessary. The most important thing is to enter a valid email address here. Otherwise, you will not get a confirmation email.
After you have successfully registered you can proceed to your account.
Available services
Smmperfect.com has an impressive range of services for:
Instagram,
YouTube,
Twitter,
TikTok,
LinkedIn,
SoundCloud,
Pinterest,
Telegram,
Twitch,
Spotify,
VK,
Dailymotion,
Tumblr,
Vimeo,
Reverbnation,
Mixcloud,
Tidal,
Google Playstore review,
Mobile Apps Installations,
Apple Music, Snapchat, Napster, Likee, Shazam, Datpiff
It offers traffic to websites and SEO backlinks as well.
On the page with services, you can use filters for more comfortable navigation.
YouTube Views
For YouTube videos and profiles you can purchase different types of YouTube views, YT shares, subscribers, likes and dislikes, comments and Live stream views.
The website offers targeted YouTube views from various GEO and Views from ADs. The cheapest price is $1,84 for 1000 YouTube views with the minimum order of 300 views.
The service sells Views that don`t droop starting from $2,40 for 1000 with a minimum order of 100k views, which will cost $240.
How to make an order
For new users, smmperfect.com offers a free trial of their services. You can send a request through the tickets and your some money will be added to your balance. My account got $1,01.
Before you place your first official order you need to refill your balance. This website accepts different payment methods among them are PayPal, Payoneer, Euro bank transfer, Advanced cash, Bitcoin, credit cards, Google and Apple Pay. For sure you can find a payment method that suits you.
After that, you choose the type of services you are interested in. If you have doubts or not sure what to order you can read a description section or contact a consultant. Each type of service has a minimum and maximum quantity. Pay attention to this when you select.
The price changes automatically according to the type of service and quantity, which is very convenient. Insert the link to your video or channel that you want to promote. You cannot proceed with multiple orders for the same link at the same time. Press the Submit button to finish the process.
Mass order option is available.
After this, you will see that your order has been received. All you have to do is wait till the results show up.
Video metrics Before and After
I ordered 500 slow YouTube views. The order was completed in 4 days. The number of views changed from 1,160 to 1,930 which means that the service added more than 500 views.
The traffic sources have changed. Now my video has more external views than direct or unknown. The GEO of the views also changed with Russia being the dominant location (31,1%).
Conclusion
SMM Perfect has a huge range of different social media services. You can find suitable service for any of your accounts and YouTube channel. However, I would not recommend buying cheap YouTube views - they are cheap but the delivery is really slow.
The prices for quality services are average for this niche. SMM Perfect is a good website to buy promotional services.
SmmPrefect review verdict 4,25/5
Price / Quality ⭐⭐⭐⭐⭐ 4/5
Start time ⭐⭐⭐⭐⭐ 4/5
Delivery time ⭐⭐⭐⭐⭐4/5
Support ⭐⭐⭐⭐⭐ 5/5
Pros:
Low prices
Easy start
Fits for the beginners
Fast delivery
Cons:
Does not seem reliable
No customer support available when needed
Poor design in general