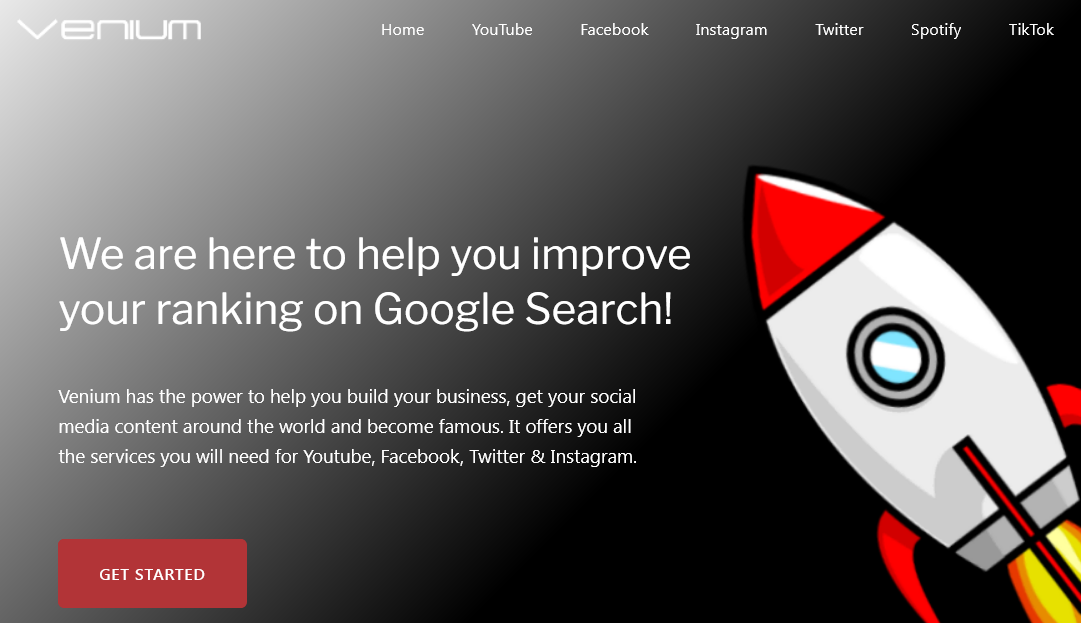 Venium Review 2023 - Is It Safe or a Scam?
Venium is an online service for promoting accounts/groups in instant messengers, social networks and popular platforms. With this service, you can buy subscribers, views, retweets and likes. They claim to help build a business, distribute content, and become famous.

Is what they claim true? What are the pros and cons of this service? Are they fulfilling their obligations? How much do their services cost? What are the features of Venium?

We will answer all these questions in this review. We will also conclude whether it is worth using the services of this service.
Why is promotion needed?
Various social networks and instant messengers have firmly entered the life of an ordinary person. There are a lot of people on the Internet. Companies, businessmen and other stakeholders know this. Therefore, in order for as many people as possible to know about them, they create accounts and groups.

However, it is very difficult and time-consuming to promote accounts/groups on your own. Therefore, they use various promotion services.
What is Venium and what it offers
Venium is a site where you can buy followers, comments, likes and views for your account/group.
Venium is engaged in social marketing. The service mainly works with YouTube, Facebook, Instagram and Twitter, but you can also place an order for Spotify and TikTok.
How Venium Works
To get started with Venium, you need:
Go to the site venium.com;
Register;
Top up your account;
Go to the "New order" section;
In this section, fill out the form and submit;
Wait for the service to complete.
When registering, you will need to provide a username, email and create a password.
You can only fund your account through Coinbase and Payeer. You cannot top up your account in euros, only in dollars.

In the "New order" section, you will need to fill out a form. In this form, you will need to select a service, provide a link to the post/video, and indicate the quantity. At the end, the final cost of the service will be shown. Order processing may take 24 to 48 hours.
For promotion, the service uses web partners and its network of several million users from around the world.

The site also has the ability to see which orders are completed, in progress or cancelled. This information is located in the "Orders" section.
Venium prices
Depending on the conditions, the cost of the order will be different. Prices for services are 2-5 times higher than market prices.
Pricing for YouTube
1000 views - from $4.70 to $7.36;
1000 likes - from $15.00 to $28.00;
1000 subscribers - $90.

Pricing for Twitter
1000 subscribers - from $30.00 to $32.00;
1000 likes - from $15.00 to $18.00;
1000 retweets - $15.00.

Prices for Instagram
1000 subscribers - from $10.00 to $12.00;
1000 likes - from $5.00 to $7.00;
1000 views - from $1.90 to $2.00.
Pricing for Facebook
1000 likes - from $7.00 to $24.00;
1000 positive reviews - $95.00.
Prices for TikTok
1000 subscribers - $12.00;
1000 likes - $6.00.
There is a restriction in the form of a minimum and maximum quantity of goods. For example, for Twitter, you can buy a maximum of 10 thousand subscribers at a time, and a minimum of 100 subscribers. The final cost will depend on the quantity chosen.


Best alternatives
---
| | | | |
| --- | --- | --- | --- |
| ALTERNATIVES | SERVICE | RATING | LINK |
| Viewsta | Instagram | 4.7 | VISIT |
| Views.biz | YouTube | 4.9 | VISIT |
| Tube.biz | Instagram | 4.8 | VISIT |
| SMO.Plus | YouTube | 4.7 | VISIT |
---
Pros and cons of the site service Venium
Pros:
Cons:
Above market prices
No refund
Support does not respond to messages
Orders take a long time to complete
Poor rating on Trustpilot and WebmasterReviews
There is a chance that bought subscribers or comments will disappear
Do we recommend Venium?
We would not recommend using the Venium service for some reason.
That's why:
Above market prices
If you look at the prices of similar services, it turns out that in Venium the prices are 2-5 times higher. That is, the client will have to overpay for the same service. Wasted money could have bought a lot more followers, likes, etc.
Poor rating on Trustpilot and on WebmasterReviews
Customers complain that their orders were not fulfilled and the money was not returned. Support does not respond to any messages. Each client wrote that this is a fraudulent site.
One of the site reviews: "Paid for 5,000 IG followers back at the beginning of December. The chat is always offline. Opened multiple tickets. No response to anything. Disputing transactions with bank to get money back. Scam!"
FAQ about Venium
1.Is Venium scam?
If you read all the reviews about the service, you can conclude that Venium is a fraudulent site. Orders are not fulfilled, there are no refunds, and support is difficult to contact.
2. How to contact support?
There are several ways to contact site support. The first way is to write to [email protected]. The second way is to fill out a special form in the "Support" section. The third way is to write to them on Facebook. The link to their Facebook is located at the bottom of the main page. The fourth way is to create a ticket in which you need to write the subject and text of the message. To create a ticket, you need to go to the "Tickets" section, which will appear after registration.
3. Do I need to register on the site?
It is necessary. Without this, it will not be possible to replenish the account so that you can then place orders.
4. How old is Venium?
The site says that they have been working since 2001. But there is no confirmation of this information. Most likely this is a lie. Therefore, we would not trust this service.
Conclusion
We would highly recommend avoiding this service. This is due to the fact that it is extremely unreliable. Support does not respond to messages, services are not performed, and money can disappear to no one knows where. This is most likely a scam site with false information.
We would recommend looking for similar services that will be more reliable.
Pros:
The SSL certificate is valid (source: Xolphin SSL Check)
This website is (very) old
This website does not contain phishing or malware according to Flashstart.
Cons:
The owner of the website is using a service to hide their identity on WHOIS
According to Tranco this site has a low Alexa rank
This website seems to help you get social media likes/followers
This website has been reported as a possible scam on Scamadviser
This website has received mainly negative reviews