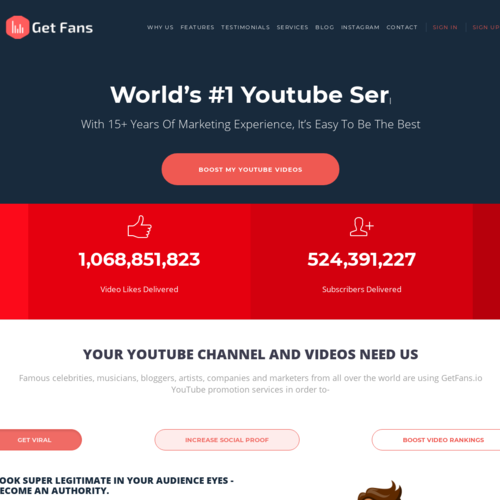 Getfans Review 2023 - Is It Safe Or Scam?
There are numerous websites like Getfans claiming that they can help you grow on social media. When you browse through Getfans, you will find packages to buy YouTube subscribers, buy YouTube likes, buy Instagram followers, and so on.
The question is, can Getfans help you in the long run?
Our Getfans review today will focus on this aspect and go into the details of the various packages offered by this website. In conclusion, we will also let you know whether you should buy a package from Getfans or whether any better alternatives are available.
Why should you buy a profile and account boosting service?
Unless and until you aren't sure what account boosting and profile boosting services can do for you, you can't choose the right website to get a package. We will highlight below the reasons for buying profile and account boosting services.
When you get a boosting package from the right website, the chances of going viral increase significantly. You can create the right buzz, and if your content is up to the mark, you will get an instant boost.
With higher followers, likes, or subscribers, you can provide social proof to prospective viewers and customers. That way, growing rapidly on social media can indeed become possible.
Boosting your stats on YouTube means that your video will rank higher. That way, you can gain more eyeballs. Once again, with more eyeballs, you will get long-term viewers and subscribers.
Because of all these reasons, it makes perfect sense to buy an account and profile boosting service.
What is Getfans, and what does it offers?
Getfans is a service provider for YouTube and Instagram boosting. According to its home page, it has more than fifteen years of experience. Also, there are various stats on its homepage that state that it has served over 67,000 clients. However, there is no way to verify whether it is so with those many clients.
As for its claim that it has 15+ years of experience, the truth is the domain was registered in 2018. It means that the website has been around for roughly four years. Even though four years is long enough, that certainly doesn't come close to the claim made by the website of 15+ years. That is why the providers were selling earlier under a different name or making a false claim. In both cases, the claim is not entirely true.
When it comes to the type of services on offer, it allows you to:
Buy YouTube subscribers
Buy YouTube views
Buy YouTube likes
Buy Instagram followers
Buy Instagram likes
Buy Instagram views
In a way, you can say that it caters to YouTube and Instagram creators.
There are a few additional claims that Getfans makes as well. These include:
24/7/365 support
The website claims to offer you email, live chat, Skype, and ticket support. However, in our experience, the support response time could be better.
Multiple payment methods:
True to its name, the site offers multiple payment methods like debit cards, credit cards, PayPal, and Payoneer.
Platform Friendly:
The website claims that it offers YouTube and Instagram-friendly services. Also, it states that it abides by the terms and conditions of the platforms. Consequently, your account is safe when getting a boosting package from this website. While this might be true, it is also essential to find out if the traction that Getfans provides is temporary or can benefit you in the long run.
Now that you know what Getfans offers, it is time to understand how it works.
Best alternatives
---
| | | | |
| --- | --- | --- | --- |
| ALTERNATIVES | SERVICE | RATING | LINK |
| Viewsta | Instagram | 4.7 | VISIT |
| Views.biz | YouTube | 4.9 | VISIT |
| Tube.biz | Instagram | 4.8 | VISIT |
| SMO.Plus | YouTube | 4.7 | VISIT |
---
How Getfans Works?
Getfans has a simple interface, and you can order the package you want within a few seconds by following the steps below.
Step one: use the navigation bar to select the service you want to buy
Once you scroll the homepage downwards, you can see the navigation bar on top. It has buttons for all the services Getfans offers. Select the service you want to buy, and the respective page will load.
Step two: choose the right package.
Once the page loads, you can see the list of packages available. Click on the package you want to buy, enter your social media account details, and then click on the next button.
Step three: fill in the details.
The website asks for some of your details, like your email address, name, and so on. Once it is done, you will be taken to the payment page. Complete the payment, and your package will be activated.
In most cases, the delivery is pretty fast and almost instantaneous. You can view the changing metrics within the next few hours.
The simple interface and straightforward ordering mechanism make buying the package you want easy.
Getfans Prices:
Whether you get the social media boosting package from Getfans or any other site, it is essential to know the prices of the packages and whether the website offers you a good deal.
50 Youtube subscribers: $ 14
1000 Youtube views: $ 9.5
20 Youtube likes: $ 5.5
1000 Instagram followers: $ 17
100 Instagram likes: $ 6.5
2500 Instagram views: $ 17
The prices for YouTube services are a bit on the higher side. On the other hand, for Instagram services, the rates are as per the industry standard.
Pros and cons of the site service Getfans:
Pros:
Simple interface
Easy to order
Multiple support channels
Cons:
Support response time can be better
Packages are relatively expensive
Makes false claims
Do we recommend Getfans?
Getfans makes a few false claims, and because of this, it is best to avoid this website. Not only that, it doesn't offer value for money either.
Trustpilot states that the website's profile is not the right fit for it to display.
ScamAdviser clearly states that some users have marked this website as possible fraud, but there are a lot of pros to this website as well.
Once again, you get mixed signals when you dig deeper into Getfans. Because of the same, it is better to go with a more trustworthy alternative.
FAQs:
Is GetFans IO legit?
Getfans IO might not be an outright scam, but various false claims that it makes don't make it legit, either. It is a shady website that is best avoided.
Does GetFans IO provide long-term traction?
No, the boosting packages you buy from Getfans IO do not have long-term positive results.
Conclusion:
Getfans tries hard to pass off as a legit website. However, digging deeper, you find quite a few red flags. Other trustworthy websites offer better value for money, excellent customer support, and better packages. So, it is best to use alternative social media boosting websites that provide long-term benefits.
Pros:
Real people
100% safe
YouTube friendly service
Good reviews
Money back guarantee
Cons:
Big prices starts from 14$ for 50 subscribers